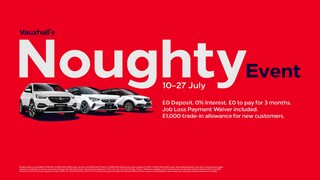 0% APR and £0 Deposit across the Vauxhall range
And pay nothing for the first 3 months
Our great Vauxhall  'Noughty' event is here and it all adds up to a fantastic deal for you.
Now you can enjoy 0% APR and £0 Deposit over 4 years using Flexible PCP on a shiny new Vauxhall.
And what's more, you can choose to take a payment holiday and pay nothing for the first 3 months. The Job Loss Payment Waiver is also included free of charge, allowing you to waive up to 6 monthly instalments in the event of involuntary redundancy.
It gets even better. New customers get £1,000 trade-in allowance and existing Vauxhall customers can get their own exciting equivalent offers. Just complete the valuation form below to find out more.   
To start, either choose from our selection of models below to see examples of the offer. Alternatively, you can then get your current vehicle valued online and your local Retailer will get in touch. 
See the current part exchange value of your vehicle plus the additional £1,000 with this offer.