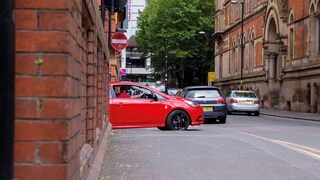 Where do you head in a car that's nippy, exciting and fun to drive? For a big city experience that promises a big rush, of course. 
So ADAM, VIVA and Corsa go in search of the ultimate thrills.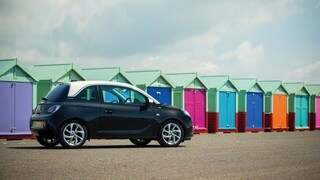 Wakeboarding in Brighton with ADAM
As I crest the South Downs and drop down into Brighton on a beautiful morning, pedestrians' heads swivel, seemingly magnetically drawn to my Vauxhall ADAM.

I don't blame them; for this is a sporty, funky little statement car, utterly at home in this bohemian seaside city. A dense, stylish bullet of a motor, the ADAM's rounded lines hint at hidden power; but with its circular dash binnacles, pleasingly-wonky offset alloys and smiling grille, it is clearly a car built for fun.

But I've got an appointment to keep; I cast off and head west to Lagoon Watersports.

At Hove Lagoon, I climb into a wetsuit, strap my feet into a wakeboard and, guided by my instructor Jack, lie backwards in the water in a crouching position, hanging on tight to a short bar.
From this, a wire runs up to a wheeled electric trolley mounted on an overhead cable; and as Jack sends this zipping away from me, the water pushes hard against my wakeboard. I extend my legs, turn sideways and, as if by magic, I'm suddenly flying across the lagoon.

During the next 45 minutes, I learn how to swerve left and right, and almost manage a 180-degree turn. Above all, I learn to fall into the water in a variety of entertaining ways!

Wakeboarding proves surprisingly easy to pick up and I emerge feeling fresh and energised. Then I weigh anchor and sail my ADAM back into Brighton, tacking through its bustling streets in search of coffee and sea views.

The little car slips effortlessly through tiny gaps, weaves around reversing vehicles, and sidles through the crowds. And when I find my perfect coffee shop, it performs a miracle. With its light steering, efficient parking sensors and 3.7m length, the ADAM slips straight into a spot that would be off-limits to most vehicles.

Back on the road, I glide up to Devil's Dyke: a cleft in the Downs, with long views north over Sussex. Here, the ADAM is transformed. For this is the sporty SLAM version, and whilst its 1.0-litre engine will happily sip petrol in low-rev town driving, on country lanes the turbo comes into play. The firm suspension eliminates body roll, the low-profile tyres hold on tight, and suddenly I'm having quite a different sort of fun.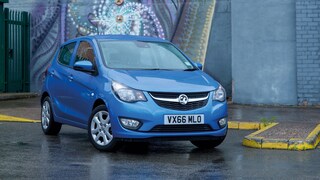 Climbing in Birmingham with VIVA
If Brighton is flashy and self-consciously stylish, then Birmingham is workmanlike and down to earth. I'm visiting Britain's second city to try indoor rock climbing, and the VIVA concentrates on getting from A to B without fuss or drama. Superbly easy to drive, the VIVA – like the bright but shy kid in a noisy class – doesn't boast about its capabilities. But give it a test, and it passes with flying colours.

Birmingham is a working city, busy building the tools for today's economy on the bones of yesterday's. My VIVA feels completely at home here: darting around like a go-kart, it climbs efficiently through the traffic to a vast, fading centre on the city's outskirts.

"Vauxhalls are great cars," says Wendy at Twin Peaks climbing centre. "My dad was a welder at the Luton plant; my brother worked there too." Then Wendy's colleague Abbas hands me a harness and a helmet, clips me into a rope, and I'm off. Clambering up the sheer, 11.5m wall, I hang at the top for a moment, then throw myself off – the automatic belay drifting me gently back to the ground.
Carefully selecting my grips and footholds, I push and haul myself up each of the eight ascents. Soon, my forearms are aching from the strain of clinging onto a series of loops, ledges and lumps, but it's immensely satisfying.

Back in the VIVA, its light steering and pedals give my tired limbs blessed relief; I join the motorway, switch on the cruise control, and head south. En route, I sync in my iPhone and make some calls – keeping my eyes on the road as the voice-controlled Siri system dials numbers and takes control of the car speakers. Then I press the button to call up Vauxhall OnStar's telephone service, and ask for directions to my destination in London; the helpful assistant on the other end of the line feeds the postcode directly into my optional factory-built sat nav.

This is a remarkable level of specifications for a car that costs a shade over £11,500 on the road, particularly given its adaptability: the VIVA feels as assured and capable on the motorway as in Birmingham's busy streets. Yet despite all the technology involved in its manufacture, this remains a very accessible vehicle; it makes light work of the M40, glides through London's hectic traffic, and delivers me home in time for tea. I've driven well over 300 miles, explored Birmingham, and climbed most of 100m up a sheer face.

And, incredibly, I'm not even tired.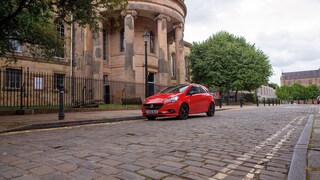 Skydiving in Manchester with Corsa
London to Manchester is quite a schlepp, and this time my son Zach is coming with me. He loves the sporty-looking, flame-red Corsa, and in Manchester he's going to try flying – quite a prospect for a seven year old.

We set off and I call up Vauxhall OnStar and access the on-board 4G Wi-Fi Hotspot, connect my laptop via Bluetooth, then let Zach choose the tunes.

As we clear the city on the A40, I discover that the Corsa is exactly the right vehicle for a road trip. Its six gears and turbocharged engine equip it for both cruising and overtaking. Its excellent soundproofing and comfortable seats relax us as the miles spin by. And its blind spot warning system – wing mirror lights that flash as vehicles slip out of view – reduces risk in lane changes. I set the cruise control at a sensible point, and we fly up to Manchester.
After a night in a hotel, we set off to explore – discovering that Manchester and Salford are, despite Britain's economic travails, still fast being rebuilt. Like this city, the Corsa is smart, businesslike, and – with its black alloys and roof, perky spoiler and nose-down stance – rather muscular.

Finally, we rock up at iFly Manchester: a vertical wind tunnel where visitors – including seven-year-olds – can experience the sensation of sky-diving. After donning a jumpsuit and learning a few hand signals, Zach joins instructor Chris in the tunnel and adopts the flying posture: lying flat, arms and legs spread in an inverted bow, he hovers at eye level as the wind bellows past him.

Initially, he's unstable; even small movements alter his aerodynamics, pitching him forward or sideways. But within a couple of minutes, he's got it – and he doesn't ever want to stop. "I want to do it again and again and again," he tells me breathlessly when his time is up.

Then Chris shows us what he can do. Letting the wind hurl him up the tunnel and falling expertly back into its blast, he performs a series of looping, spinning, somersaulting acrobatics. He's been teaching here for a year, and plainly loves it. "This has ruined every other job I'll ever have," he says with a grin.

After taking three great cars to three cities for three adrenaline sports, I know exactly how he feels.