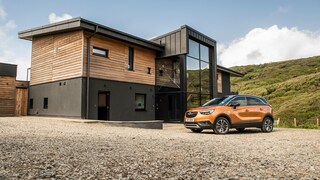 Tucked away on the banks of a deep-sea creek behind Cornwall's Roseland Peninsula is Britain's first tea plantation. Hanna Lindon drops the kids off at school, ditches her pyjama mama uniform, and takes the Crossland X to investigate.
It begins like any other day. The kids have been packed off to school, I've got mountains of work to plough through – but outside on the drive the shiny new Crossland X is gleaming invitingly, just begging to be taken on an adventure. Pushing my laptop to one side, I pick up the phone. "Polly, it's me. Fancy a cup of tea?" 
Pick-up time
Polly's house is a zig-zagging drive along the hairpin-heavy lanes of the North Cornish coast. With its head-turning two-tone floating roof and sleek design, the Crossland X is the ultimate urban SUV, but it takes this kind of terrain in its stride – you can hear the 1.6 turbo-diesel engine purring contentedly as it negotiates the steep hills with effortless efficiency.


The steering feels super light for an SUV, giving the Crossland X an agility you wouldn't normally associate with a family car. At the end of the short spin, I swing confidently into Polly's pot-holed driveway with gravel fountaining up in my wake.

"So where are we going for tea then?" she asks, climbing into the passenger seat.

"Well, I had an idea about that…"

Our route takes us inland down the A39 and towards the heel of Cornwall's boot. There's plenty to love about the Crossland X – not least its sassy looks – but the infotainment system is the feature that's really going to wow your passengers. All cars in the range boast Vauxhall OnStar, your personal connectivity and service assistant, with a 4G Wi-Fi hotspot. Bluetooth audio streaming is included as standard – plus, the dual capacities of Apple CarPlay and Android Auto smartphone mirroring keep you connected on the go.
Time for tea
It takes around an hour to reach the fertile banks of the Fal Estuary. We wouldn't normally drive this far for our morning cuppa, but today Polly and I have got something special in mind. We're visiting Tregothnan, the first place in the country to begin growing tea commercially. This time-forgotten Cornish estate has long been famous for its humid micro-climate. The UK's first ornamental camellias were grown in Tregothnan around 200 years ago – and, as Polly and I are about to find out, it's the evergreen camellia shrub that provides all of the world's black, white and green tea.

"The ground stays warm year-round because of the estuary," says Tregothnan's Bella Percy-Hughes, welcoming us to the estate's cosy café. "That, and the acid soil, means that we get these enormous rhododendrons and camellias. Jonathan Jones, who's the managing director of trading now but was head gardener at the time, saw this and thought that we could try growing tea and see how it went."

The first tea was planted in 1999 and Jonathan had to wait six years for the first harvest. "That was 28 grams – enough to make ten cups of tea," laughs Bella. Nowadays, 150 acres of the estate is given over to tea production and Tregothnan tea is sold across the UK.
Step into the garden
The small plantation that Bella wants to show us is secreted away in the heart of Tregothnan's private botanical gardens. To reach it, we hop back in the Crossland X and coast down a long driveway in weather that's doing a good imitation of equatorial South America. I'm uber-grateful for the car's dual-zone electronic climate-control system, which allows me and heat-lover Polly to set our own temperature choices.

"Here's the plantation," says Bella. She leads us along a narrow path between the glossy green bushes, pinching off a few fresh buds as she goes. "These buds and the newest leaves are what goes into the finest white tea," she explains. "They have to be harvested by hand. Black and green tea both come from the rest of the bush."

Picking the young buds ready to be dried for our very own high-end brew is a seriously-therapeutic process – now we're dying to sample a few tea varieties.
A tasting tour
It turns out that Tregothnan produces dozens of teas – five black, a green tea and 14 infusions, not to mention a bespoke and limited-edition range.

In the end, we opt to taste the Classic Tea (the first grown in England), a refreshing Afternoon Tea, a peppermint tea and a Manuka Infusion produced from Tregothnan's own Manuka bushes. My favourite is the peppermint, which tastes almost exactly like retro Fox's Glacier Mints.

The estate also produces jam from its rare kea plums, Manuka honey and biscuits. There's no way we can resist taking a goodie sack away with us. Luckily, the Crossland X has bags of boot space – a seriously- impressive 410 litres, increasing to 520 litres when the rear seats are pushed forward with the optional versatility pack. There's also a wonderfully-handy boot box, perfect for packing the shopping in, which slides under the height-adjustable boot floor.
On the road
The Crossland X looks comfortably at home parked outside Tregothnan's aristocratic estate offices. This car really punches above its price range when it comes to style – it simply oozes class, and is just as at home navigating the backroads of rural Cornwall as cruising around the city or eating up the miles on the motorway. 


During that drive back home, I discover a whole host of ingenious features. There's the Hill Start Assist, rain-sensitive windscreen wipers and cruise control with a speed limiter. I'm particularly sold on the lane departure warning, too, which lets you know when the car moves outside lane markings at speeds above 37 mph.

So how to describe the Crossland X in a nutshell? I'd call it the ultimate practical family SUV for style-conscious mamas. This is a car that can turn an ordinary day into an extraordinary one.