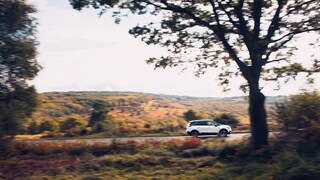 Hidden deep in the West Sussex countryside, the Knepp Rewilding Project is the base for a completely unique safari experience. Hanna Lindon takes the Crossland X to investigate
Excitement crackles through the Crossland X as we cruise through the wooded West Sussex countryside. It's not just the car that has my husband Guy and I fizzing with anticipation, although there's plenty in this rugged, sporty SUV to get keyed up about. We're taking the Crossland X on a truly wild family adventure – a glamping safari at the 3,500-acre Knepp Castle estate, where grazing animals roam free and nature has been left to do its thing for over a decade. We're looking forward to a break that combines style and creature comforts with plenty of outdoor exploration, and the Crossland X is just the car to get us there. 
The adventure begins

My niece Daisy and her friend Amy are brimming with enthusiasm when we pick them up. The two of them scramble into the car's spacious back seat, admiring the view from the panoramic glass roof.

"This is the perfect safari car," announces Daisy. "You can even see the birds flying overhead." She's instantly spotted one of our car's amazing features. Our model is a white Crossland X Elite Nav, with an optional contrasting black roof for an additional touch of style. I'm equally impressed with the Crossland X's stellar line-up of safety features. One of my favourites is the lane departure warning, which alerts you if the vehicle strays across the lane markings. There's also an optional Safety Pack with an automatic braking system that can detect pedestrians, and of course there's OnStar: our in-car personal connectivity and service assistant which provides a 24/7 emergency call service at just the touch of a button.

The girls, it turns out, are way more impressed by the high-tech Navi 5.0 IntelliLink Infotainment System our car is equipped with. My cool auntie credentials get a boost when Daisy discovers that she can access selected smartphone functions via the 8inch LCD colour touchscreen. Soon, Daisy and Amy are using the car's Apple CarPlay™and Android Auto™ capacity to send music pumping out of the car's speakers, arguing about what should be the theme tune for our road trip. "Kids," sniffs my husband Guy dismissively. A minute later he's enthusing about the fact that the Crossland X is wirelessly charging his phone and he can input our destination to the sat nav
via voice control.
Most of the drive is an effortless cruise along A roads. The Crossland X eats up the miles without any visible change to the fuel needle – a satisfying side effect of the uber-economical 1.6 (120PS) Turbo Diesel Start/Stop Blueinjection engine. What really wows me is that a car with such impressive fuel economy (an average of 70.6mpg) can be so quick off the mark. I'm almost shocked by how promptly the Crossland X leaps forward when I accelerate to overtake. It's both reassuring and a tad enthralling to have this much low-end torque at your disposal.

During the journey, we discover a whole host of super-clever features. The cruise control with speed limiter takes the stress out of motorway driving, while the hill start assist staves off an embarrassing stall when I'm forced to do a steep hill start at a roundabout. I'm completely seduced by the optional digital heads up display. It projects speed information and other dashboard alerts onto a folding screen within my line of sight, meaning there's no excuse to take my eyes off the road. When I come to change lanes, I discover another thoughtful feature – the optional side blind spot alert, which detects a car out of the range of my mirrors and displays a visual alert to warn me.

When we leave the main roads and plunge into the Sussex countryside, it begins to dawn on me that the Crossland X's sleek good looks hide the heart of a true adventurer. It handles the country lanes with enjoyable dexterity, nipping around sharp corners at a mere touch of the wheel and displaying superb balance on the uneven road. I'm almost disappointed when we pull into a rough track and find ourselves outside the Knepp Rewilding Project's secluded campsite.
Going off Grid

The entrance to the site is an arch constructed from dozens of enormous antlers. "It shocks people sometimes," says Penny, the project's resident ecologist and safari guide, when she meets us beneath the arch. "We have to explain that deer actually shed their antlers every year and that these are just collected from the ground. You see the highly-branched ones that look like the top could hold a glass of wine? Those are red deer antlers. The broad-bladed ones come from fallow deer."

Red and fallow deer are two of the 'big five' herbivores reintroduced to the estate 15 years ago by its owners, Sir Charlie and Lady Burrell. The others are Exmoor ponies, Tamworth pigs and Old English Longhorn cattle. Those breeds were chosen because they replicate as closely as possible the habits of the aurochs, elk and boar that roamed this landscapes thousands of years ago. "Each species brings something different," explains Penny. "Some are browsers, eating branches and leaves. Others graze or rootle. This isn't like a normal farm where you're giving your animals food and controlling where they roam – here they feed naturally, and this has had an amazing effect on vegetation and wildlife."

The landscape has changed beyond recognition since the Burrells began to implement their rewilding vision back in 2002. What began as arable land, farmed intensively since the Second World War, has been transformed into rambling, natural habitat teeming with flowers, native plant species and wildlife. Nightingales have returned to the estate for the first time in 50 years. It's a hotspot for Purple Emperor butterflies, and the turtle dove – predicted to become extinct in the UK within the next 10 years – is thriving.

What's more, swapping traditional farming for an alternative, more sustainable approach has turned the estate from a loss-making enterprise into an economic success. With its heavy clay soil, Knepp Castle could never compete with new, industrialised farms on more amenable ground. Now it hosts a growing range of green businesses, many of which sell their produce in the estate shop. The campsite is a huge draw for visitors who want to step back in time to a simpler existence, and a line-up of vehicle-based safaris and walking tours are introducing outsiders to this unique environment.

The Knepp experience is all about going off-grid, so we leave the Crossland X in the car park and unload our overnight gear from the spacious boot (an impressive 410 litres, with an optional rear-seat-forward feature that increases the space to 520 litres) into a handy wheelbarrow. The kids (they have to be over 12 to visit Knepp) skip ahead through the antler arch into a glamping haven, where exquisitely-decorated yurts and shepherds' huts squat against a wild, wooded backdrop. We pass a rustic outdoor kitchen, built from reclaimed wood, and a bathhouse that hides an intriguing surprise. "Outdoor baths," squeaks Daisy, popping her head around the door. "I'm so having a bath under the stars later!" She's even more impressed by the kids' private yurt, with its king-sized bed and upcycled fire pit.
Meanwhile, Guy is exploring our cosy shepherds' hut. "There's a wood burning stove," he says approvingly. "We should light that – it's going to be chilly tonight." By the time we've discovered a wood-fired pizza oven, solar-powered laptop charging points, a yoga studio and walkway across a pond, nobody is particularly keen to leave the campsite. Today, though, we have an even more exciting agenda to follow.

Safari time "Ready to find some animals?" asks Penny, rattling the keys of a fabulously-retro safari truck. Soon we're bumping along through scrub and high grasses, eyes peeled for movement, feeling just as excited as if we really were in Africa.

It isn't long before Daisy spots a pair of giant horns protruding from the grass. "These are the Longhorn cattle," shouts Penny above the roar of the truck, leaving the track to circle the herd. "They imitate their ancestor, the aurochs, which are now extinct. They stay out throughout the winter and are generally left to their own devices." When the Longhorns start moving off uncertainly, we drive on into the estate's southern block. This is the wildest of the three sections – a scrubby landscape of hawthorn, blackthorn and wild rose, bisected by overgrown hedgerows that provide an ideal habitat for nesting birds. The river here has been expertly restored to reinstate its natural meanders, attracting a glut of wading birds, amphibians and water insects. Sallow bushes are a particularly crucial part of the eco-system, providing shelter for the nightingales and turtle doves populations that have exploded across Knepp during the past few years.

What I find almost even more fascinating than the wildlife is the way that the activity of Knepp's large herbivores has shaped the landscape. It used to be assumed that pre-human Britain would have been cloaked in deciduous forest. Now, partly thanks to the Knepp Rewilding Project, experts are beginning to question that assumption. En route through the estate we stop at several beautifully-crafted treetop viewing platforms. Seen from above, the 3,500 acres of wildland stretches almost as far as the horizon – the only sign that we're in the 21st century is a line of distant pylons. That's when we hear the roar of a red deer. Penny leads us off in search of the herd, and soon we spot a large group led by an impressively-antlered patriarch. "We run special deer-rut safaris at this time of year so that people can see the mature stags defending their females at close range," says Penny. The safari experience changes throughout the year, with expeditions to search for nightingales in spring, Purple Emperor safaris in mid-summer and the deer rut safaris throughout the autumn.
Creature Comforts

The afternoon has turned chilly and our thoughts move longingly towards warmth and a hot drink. Back in the car park, the Crossland X is waiting, mirroring the Knepp mix of adventurous escapism and modern luxury. I open the car using the keyless entry system and the girls quickly jump in.

We make a beeline for the local café. It's only a five-minute drive – but the dual-zone electronic climate control gets the car warm and toasty long before we reach our destination. In this nippy weather I'm particularly grateful for the optional winter pack with heated front seat and heated leather-covered steering wheel which deliver comforting warmth to my hands and back. The prospect of pulling into the busy car park would usually have me in a sweat, but not today. One of the Crossland X's stand-out optional features is the Park and Go Pack Plus, which not only detects parking spaces for you but actually steers you into them. All I have to do is reverse (or accelerate), brake and leave the car to do its stuff with the aid of automated distance sensors and automatic steering. There's also a 180-degree panoramic rear-view camera, which gives me a crystal clear picture of the parking spot behind me as I reverse. The Crossland X is one smart car.
Talking of smart, did I mention that our Crossland X is equipped with OnStar? This uber-clever technology transforms your car into a 4G Wi-Fi hotspot, making it easier to entertain the kids on those long car journeys. But OnStar is much more than this – it's your on-board personal assistant, just a button away, who can do everything from booking you a hotel room to finding a free parking spot. Dusk is gathering as we cruise back towards Knepp. Campsite manager Rachel has thoughtfully put the pizza oven on, so we raid the shop for ingredients and rustle up a delicious candle-lit supper for Daisy and Amy.

"What did you like most about the day?" Guy asks them as we eat in front of the fire. "The Wi-Fi in the car," says Daisy blithely. "The pizza," adds Amy. "But the safari was amazing as well," Daisy admits. All in all, it's been a day of life-affirming adventure for everyone – and the Crossland X has played a starring role in its success.
Simply Grand

There's no problem about eking a bit more out of the New Grandland X. Everything about it is, well, grand. Out on the open road, little or no effort is required to get the best out of the New Grandland X. It's a very comfortable car, nicely-tuned suspension damping absorbing the worst that speed bumps and potholes can fling at you, without feeling remote or detached.

It steers accurately, with a pleasing weight to the steering, and the slick, accurate six-speed manual gearbox is a pleasure to flick between the gears. The New Grandland X tackles corners with well-controlled body roll, a crisp turn-in with stacks of grip from the driven front wheels, and surprising tenacity at those moments when you get caught out by a bend with a tightening radius, courtesy of that rolling English drunkard.
New Grandland X comes with OnStar, your personal connectivity and service assistant. Amongst other things, it will keep you safe, alerting the emergency services should you need help after an accident; connected via 4G Wi-Fi hotspot; and looked after, finding you a hotel room or a parking space. Simply push the button, 24 hours a day, 7 days a week, and your friendly OnStar advisor is there to help.
Just as a horse has a jockey to guide it, the New Grandland X Elite Nav is equipped with Park and Go Pack One, which includes front and rear parking sensors to help drivers when parking. 
It is also fitted with the side blind spot alert function which uses flashing door mirror lights to warn you of vehicles lurking in your blind spot.

Back in the kitchen, over a cup of tea, John will have none of my suggestion that what has always been known as 'The Sport of Kings' remains ultra-expensive and elitist to this day. "Now racing is more open to Joe Bloggs down the road," he considers. "Thirty years ago it was just those with disposable cash, but now the advent of syndicate ownership allows so many more to own part of racehorse."

"I wouldn't want to be any bigger than we are now," considers John. "We have a nice manageable yard with about 35 boxes. These days each lad looks after about six horses. So through the summer there'll be six members of staff for 30 horses, plus me and Becky. She does all the office work, the hardest job, while I get paid to get the horses fit and entertain the owners. But it's been a good partnership because I usually do what I'm told and she never does what she's told..."

And there's the rub. You know that every time you climb behind the wheel of Vauxhall's New Grandland X, it will respond instantly to your every command, whisking five of you, and your luggage, wherever you want to go, smoothly, briskly and in air-conditioned comfort. But where's the fun in that, John might argue, when you can climb onto a one horsepower animal with hooves, teeth and a mind of its own, all of which you must win over absolutely if you want to have even a fighting chance of staying aboard, let alone winning a race.

Heading home through the dark lanes, I'm grateful for the New Grandland X's clever optional Premium LED Adaptive Forward Lighting Pack. It features LED projector lamps powerful enough to stun wildlife, which constantly adjust the headlight array to suit vehicle speed and driving, whilst taking care of the main-beam dipping for you. It's been a long day, but I'm in good hands with the New Grandland X, thanks to the Safety Pack which includes the driver drowsiness system that monitors driving behaviour to help prevent accidents caused by tiredness, and lane departure warning with lane assist in case you start drifting out of your lane. If I had to choose a winner from the horses I have seen today, I wouldn't know where to start. But the New Grandland X is a winner for me, hands down.