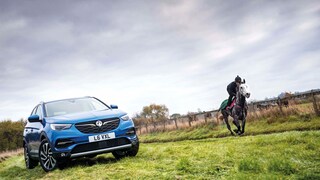 The New Grandland X, Vauxhall's thoroughbred king of SUVs, visits its racing counterparts at a stables in the Cotswolds
In honour of the horse's centuries of steadfast service to humanity as a genuine workhorse, we took Vauxhall's latest modern equivalent and the grandest SUV in the company's current line-up, the New Grandland X, to visit a racing stables in the heart of the Cotswolds where, to yard owners John and Becky Gallagher, horsepower is still fundamental to their livelihood.
Comfort and Speed
It's said the rolling English drunkard made the rolling English road, and nowhere is this epithet more apparently true that on the quiet backwater byways that lead to Gallagher Racing, writhing through some of our must stunning countryside.

In fact, it was the horse-drawn cart and carriage that laid the foundations for today's road network; even the width of the carriageways determined generations ago by the wheel track width of said carriages. Happily, however, progress in the New Grandland X is considerably faster and infinitely more comfortable than those distant, team-of-four days of minimal suspension and wooden wheels.

Vauxhall's largest SUV is now available with a 1.6 litre, 120PS diesel engine, an eager 1.2 litre, 130PS, three-cylinder turbocharged petrol engine in the Elite Nav trim which we're driving today, and the recent addition to the range, the Ultimate trim level, comes with a 2.0 litre, 177PS diesel engine.

Armed with some 230 Nm of torque, it's remarkable just how readily the New Grandland X hitches up its petticoats and responds to the throttle, barrelling along with a pleasing zip which completely belies a relatively-modest cubic capacity whilst returning an average fuel consumption of 52mpg.
Happily on these narrow, mud-smeared roads, the new SUV's stopping prowess is every bit as assured, particularly given the quantity of one-horsepower traffic you'll meet in this area. John Gallagher himself still remembers with a shudder a single-track road encounter he had with a speeding car in the very early days of his career on horseback. "I could see the car wasn't going to able to stop in time," he recalls. "And the only thing I could do was to try and jump the car... Amazingly, the horse was willing, but just couldn't quite make it. We ended up with the front hooves on the roof of the car and the rest of the horse sitting on the bonnet. I'm not sure which of the three of us was most shocked. Mercifully, none of us was hurt, but the car had seen better days."


Now had the car involved been the New Grandland X with the optional forward collision alert with automatic emergency braking, that accident would have been avoided. Every day starts early in a racing yard, with the first of three daily feeds at 5.30am, so the horses' exercise regime is well under way when we arrive. John proves remarkably relaxed about allowing us onto the gallops in the New Grandland X, simply saying that as long as the horses have seen the car and been walked past it, it won't upset them when they thunder by at full tilt.

In truth, I'm slightly more concerned about the SUV's progress on the gallops' slick, soggy grass verges. Needless concern, however, because my New Grandland X is fitted with Vauxhall's front-wheel-drive system. To good effect, it transpires, as we leave the tarmac... 
Jockey to Trainer
"I never wanted to be a trainer," John smiles as horse and horseless carriage familiarise themselves with one another. "I got into racing to be a jockey and, as time went on, when Becky and I got together we trained point-to-point horses. Amateurs never made any money riding, so we did the training to make a living, and rode for pleasure.

"It wasn't at the top of my to-do list. It was only because we were training these horses and one of the chaps I was riding for asked me to get a full license so I could train his other horses." I said no; it cost too much money. You had to have eight or 10 horses in training to get a license, and you had to do four modules at the racing school at £1,000 each, plus another £1,000 on top for the licence itself. And there was no guarantee you'd get the ticket.

"So I said to him, you guarantee me 10 horses and I'll go for it. He said he'd pay for the modules and I could pay him back in training fees. That was about 18 years ago..."
A drumming of hooves signals the arrival of the 'string', now familiar with the elegant cut of the New Grandland X's metallic Topaz Blue jib, at speed. And, even if, like me, you consider horses to be dangerous at both ends and uncomfortable in the middle, you cannot help but be impressed by the power and skill on display.

Horse height is measured in hands; four inches corresponding, ostensibly, to the width of your hand. So a 17-hands horse finds the rider a considerable distance off the ground, travelling at up to about 40mph, standing up in the saddle with no point of contact with the horse above his or her knees; that's some balancing act...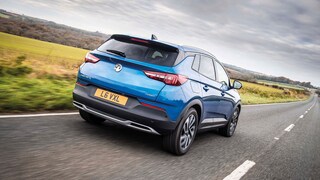 On to a Winner
Not that staying in the saddle would offer much additional support, as it's so small, it's barely larger than the contact patch of a tyre on the road. Mercifully, our New Grandland X is somewhat better equipped for everyday life. Not only do the ergonomic front seats have full lumbar support and extendable and tiltable cushions, each electrically adjusts 16 different ways for the ideal back therapy. Then there's the capacious luggage space, all 514 litres of it, with a hands-free power tailgate that allows you to fill the boot easily.

My Elite Nav is also crammed with a sufficiently-comprehensive list of standard equipment to make a horse blush. By way of comparison, then: Horse – er, nothing; the New Grandland X Elite Nav – 8inch full-colour touchscreen with sat nav, Apple CarPlay™ and Android Auto™, voice control, Bluetooth, dual-zone air-conditioning, cruise control, heated seats and a power tailgate to name but a few. And, of course, an array of safety features designed to ensure that, amongst other things, you do not end up with a horse sitting on your bonnet.
"We win a lot of races from the front, but at certain courses," John continues. "It's horses for courses and trainers for courses. A lot of ours run well at Goodwood, Epsom, Brighton; all the switchback, undulating tracks. And that's because most trainers' gallops are straight – up a hill in a straight line. Ours are up, down, around... "So tricky courses like those suit them, as they're able to gallop downhill as well as uphill, and that catches a lot of horses out. We have a ridiculous amount of winners at Brighton because our horses are not afraid to gallop downhill."

Back in the yard, amiable bustle accompanies the arrival of the youngsters, who are still learning to tolerate someone sitting in the middle of their backs, and to resist the urge to throw them into the nearest hawthorn bush. "As long as you do a good job of breaking them in as babies so they know their job, get them fit and keep them fit, that's really all you can do," considers John. "The work they do is quite intense. It's a big thing for them to get used to someone sitting on their back and telling them what to do.

"They all get taught to win a gallop; to finish in front. By the time these babies are ready, they'll all have led a string up the gallop, so they know what it feels like to be in front. That's how you get the gist of which ones actually want to be there."

"Ultimately, though, they themselves have got to want to be a racehorse," John believes. "We break them in, give them a good start so they're enjoying themselves, gallop them, feed them. But if they don't want to – no matter whether they actually can or can't – there's nothing you can do to make them a racehorse."

"The hardest part is getting their heads right," John says. It's absorbing to see him with the horses and how astutely he responds to the differing character of each in his care. Even one wayward animal whom he describes as talented, and fast, but 'a pain', he does so whilst affectionately tugging at its nostrils. "He's won for us, but he's like a nine-year-old boy, he just wants to mess about and be an idiot...

"I know every one of the horses: their character, temperament, likes and dislikes. When you get a yard full of happy lads, the horses are happy. They're like people; confidence breeds confidence."

"People say they don't know they've won, but they seriously do," he adds. "There's nothing like watching a horse's first win; they get so much attention, you can see them feeding off the emotion around them. They get such a buzz out of it."

The Gallaghers have a very good relationship with the owners of the horses, and have been with some of them for many, many years. "We must be doing something right," John smiles. "I think the main thing that the owners are concerned with is that we're honest with them. If the horse is rubbish, say so.

"If they don't believe me when I say a horse is rubbish, I say 'please feel free to take it somewhere else'. In fact, I can only think of two horses that have left here and won for other trainers, and one of those I sent away to another trainer anyway.

"You're only as good as your last runner. You're forgotten very quickly in this game. We currently have about 27-28 horses in full training and we normally have at least one or two winners every month through the season. But the amount of place horses we have is ridiculous. So far this year we've had 11 winners but something like 28 second places. If we could just eke that little bit more out of them…"
Simply Grand
There's no problem about eking a bit more out of the New Grandland X. Everything about it is, well, grand. Out on the open road, little or no effort is required to get the best out of the New Grandland X. It's a very comfortable car, nicely-tuned suspension damping absorbing the worst that speed bumps and potholes can fling at you, without feeling remote or detached.

It steers accurately, with a pleasing weight to the steering, and the slick, accurate six-speed manual gearbox is a pleasure to flick between the gears. The New Grandland X tackles corners with well-controlled body roll, a crisp turn-in with stacks of grip from the driven front wheels, and surprising tenacity at those moments when you get caught out by a bend with a tightening radius, courtesy of that rolling English drunkard.
New Grandland X comes with OnStar, your personal connectivity and service assistant. Amongst other things, it will keep you safe, alerting the emergency services should you need help after an accident; connected via 4G Wi-Fi hotspot; and looked after, finding you a hotel room or a parking space. Simply push the button, 24 hours a day, 7 days a week, and your friendly OnStar advisor is there to help.
Just as a horse has a jockey to guide it, the New Grandland X Elite Nav is equipped with Park and Go Pack One, which includes front and rear parking sensors to help drivers when parking. 
It is also fitted with the side blind spot alert function which uses flashing door mirror lights to warn you of vehicles lurking in your blind spot.

Back in the kitchen, over a cup of tea, John will have none of my suggestion that what has always been known as 'The Sport of Kings' remains ultra-expensive and elitist to this day. "Now racing is more open to Joe Bloggs down the road," he considers. "Thirty years ago it was just those with disposable cash, but now the advent of syndicate ownership allows so many more to own part of racehorse."

"I wouldn't want to be any bigger than we are now," considers John. "We have a nice manageable yard with about 35 boxes. These days each lad looks after about six horses. So through the summer there'll be six members of staff for 30 horses, plus me and Becky. She does all the office work, the hardest job, while I get paid to get the horses fit and entertain the owners. But it's been a good partnership because I usually do what I'm told and she never does what she's told..."

And there's the rub. You know that every time you climb behind the wheel of Vauxhall's New Grandland X, it will respond instantly to your every command, whisking five of you, and your luggage, wherever you want to go, smoothly, briskly and in air-conditioned comfort. But where's the fun in that, John might argue, when you can climb onto a one horsepower animal with hooves, teeth and a mind of its own, all of which you must win over absolutely if you want to have even a fighting chance of staying aboard, let alone winning a race.

Heading home through the dark lanes, I'm grateful for the New Grandland X's clever optional Premium LED Adaptive Forward Lighting Pack. It features LED projector lamps powerful enough to stun wildlife, which constantly adjust the headlight array to suit vehicle speed and driving, whilst taking care of the main-beam dipping for you. It's been a long day, but I'm in good hands with the New Grandland X, thanks to the Safety Pack which includes the driver drowsiness system that monitors driving behaviour to help prevent accidents caused by tiredness, and lane departure warning with lane assist in case you start drifting out of your lane. If I had to choose a winner from the horses I have seen today, I wouldn't know where to start. But the New Grandland X is a winner for me, hands down.