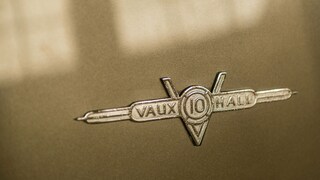 Vauxhall's Heritage collection of vehicles, covering every decade since the company started building cars in 1903, is remarkable.
It's not every day that you get the chance to drive them, But the recent Griffin Greats event provided the perfect opportunity…

With a pristine hatful of Vauxhalls from the company's astonishing, 73-strong Heritage collection to choose from on this first Griffin Greats event to be held on UK roads, I couldn't decide where to start. Was it to be the 1926 30-98 OE-Type (Britain's first 100mph production car), the 1949 L-Type Wyvern (Vauxhall's first true post-war model), the 1909 B-Type 'semi-racer'…? The choice seemed endless.


I settle on the 1904 Vauxhall 6hp, one of only about 70 cars built in south London by the Vauxhall Iron Works, whose teetering, unprotected seating position and lack of steering wheel firmly classify it as a horseless carriage.

Its 1029cc, single cylinder engine drives the rear axle with a chain, and the contraption is steered (or should that be aimed) with a push-pull tiller which straddles the driver's lap. It has two gears, and the throttle – at the end of the gear lever – turns exactly like a tap.

However, after a little practice, it proves to be something of a joy to drive; the knowledge that stopping is largely out of the question making the top speed of 18mph all the more daunting...
I move on to 1909 B-type 'semi-racer' and the 1911 C-type 'Prince Henry', which trumpet Vauxhall's growing interest in motor sport at the time. And it's interesting to see how notions of streamlining had advanced over just two years.

Practicality clearly took a little longer, because the presence of a spare tyre and a handbrake hung outside the bodywork dictate access is via the passenger door only. With a clutch like a switch, accelerator pedals swapped over from today's layout and a brake system that locks up the transmission, stopping, through the use of a firmly-tugged handbrake, involves thinking supertanker distances ahead.
Though undeniably sleeker, the 3.0 litre 'Prince Henry' is barely easier to drive, so we climb into the famous 1926 OE-type 30/98. For a time, this 4.25 litre monster was sold with a guarantee of a 100mph top speed; performance, as usual, unmatched by a braking system.

The 10hp 1937 H-type was equally revolutionary in its day, being the first car in the UK to boast a monocoque body construction and synchromesh in both second and third gears. With a conventional control layout it is, compared to the other cars I've sampled today, something of a joy to drive.

But there's something utterly addictive about the wind in the hair, wasp up the nose driving experience of the earlier models in this sumptuous Griffin Greats line-up that will have me coming back for more at the first opportunity.