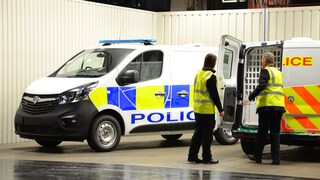 Luton is the new centre for Vauxhall's blue-light conversion. Steve Banner reports.
Mick Ellam is responsible for producing conveyances that nobody wants to take a ride in if they can possibly avoid it.

As manager of Vauxhall Special Vehicles, his product portfolio includes Vivaros with a cell in the back that are supplied to police forces all over the country. Well over 600 of them are in operation.

The cell usually contains one occupant, but can be installed with a divider down the middle so that two can be accommodated if needs be.

With products aimed at fire and ambulance fleets, as well as constabularies, Vauxhall's blue-light conversion activities used to be based at the Millbrook test track in Bedfordshire, once owned by Vauxhall's parent company, General Motors.

"The problem was that we needed more space because we were receiving more orders than we could comfortably cope with and we were paying rent to a landlord," Dick says. "Moving the operation to Vauxhall's Luton plant early last year means we've got more room and lower overheads."

Vauxhall produces around 2,500 vehicles annually for the blue-light fleets and uses Movanos and Combos as platforms as well as Vivaros. The total also includes police cars based on Corsa, Astra, Insignia and Mokka.
It has created a mini factory within a factory to handle all this blue-light work. "We've got our own production line with 12 stations, as well as eight full-size 8m x 4m bays," Dick explains.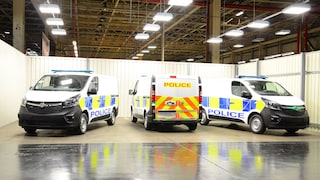 Police vehicles account for around 80% of the operation's output. Fitted with doors front and back, and with a white interior, the fully-ventilated cell in the L2H1 2900 Vivaro is made from powder-coated steel and weighs around 200kg. It has a polycarbonate lining which makes it easy to hose out.

"The lining has no seams so that whoever is in the cell has nowhere they can conceal drugs or other illicit items," Dick says.

A special binnacle is mounted on the Vivaro's dashboard which accommodates the police radio and switchgear. Bolted to aluminium extruded flooring, the two seats mounted behind the front seats face towards the cell so that officers can keep an eye on whoever is in there. The fully-sealed cells also have perspex inserts to aid visibility.

The driver can keep the occupant under observation, too, thanks to a CCTV camera and a screen on the fascia.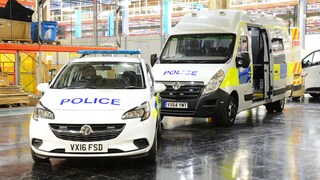 Luton is also able to turn a Movano into a PSU – Protected Support Unit – which can be used to transport a squad of nine or 10 police officers and their equipment, including helmets, shields and body armour, to a location on the edge of a riot.

"Our PSUs are fitted with mesh in front of the radiator and behind the front grille to protect the engine from deliberate damage and are fitted with run-flat tyres in case somebody tries to puncture them," Dick says.

Combos are converted, too, so that they can be used to transport up to two police dogs.