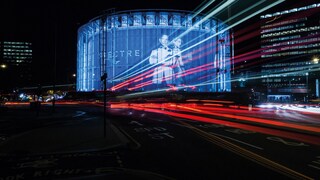 We're all familiar with phrases such as "it's not the size that counts" and "bigger isn't necessarily better", but some things are better super-sized. Here's a magnificent seven of britain's biggest things.
1) Kitesurfer parade

In 2016, 423 kitesurfers took to the water off Hayling Island in Hampshire, travelling along a mile-long stretch and setting a new world record. The Virgin Kitesurfing Armada UK had been held at Hayling Island since 2013, and takes three-and-a-half hours, though it is weather dependent. It was started by kitesurfing enthusiast and owner of Virgin, Richard Branson, and the current world record parade was started by the line-up's oldest participant, who was 72 years old. British kite champion Lewis Crathern was also part of the event. The previous record was set in January 2016, with 415 participants, in South Africa.
2) Breakfast

Located in Hillingdon on the outskirts of London, the Wonder Café has been serving local people since 1976 and has become famous for its breakfast challenge, a dauntingly-large fry-up with a 45-minute time limit. The Wonder Café Challenge is a classic, full-English breakfast comprising four fried slices of bread, four slices of toast, four eggs, six sausages, six rashers of bacon, six hash browns, four slices of black pudding, plum tomatoes, beans and mushrooms. Eat it within the time limit and you'll not only get it free (normally £20) but your name will also be immortalised in their Hall of Fame. Though attempted by many, the challenge has only been completed once, by competitive eater Emma Dalton, who munched her way through it live on ITV's This Morning in 2014. She finished in 21 minutes and 34 seconds, with the mammoth breakfast totaling around 5,000 calories.
3) Ice-cream

Back in 2012, zany chef Heston Blumenthal took his ice-cream obsession to a new level, creating a mammoth '99 cone with over a tonne of vanilla ice cream in Gloucester Park. The giant ice cream stood at over four metres and was erected with the help of cranes and a fork-lift truck. It smashed the previous record for the world's largest ice-cream by 2.5 metres, and came complete with a flake, sprinkles and strawberry sauce, which was fired from laser-guided cannons.
4) Cinema

Opened in 1999, the BFI IMAX next to London Waterloo station is the largest cinema screen in Britain. It's 26 metres wide by 20 metres tall, with a total screen size of 520sq m and auditorium seating for 485. Though surrounded by traffic, at the centre of a busy roundabout, and lying just four metres above one of the city's Underground lines, the architectural firm responsible for the design ensured that noise and vibrations would be minimised by sitting the entire upper structure on anti-vibration bearings. The cinema has been operated by Odeon Cinemas since 2012, showing a mixture of blockbuster and independent films, as well as live opera. The first mainstream film to show at the cinema following Odeon's takeover was The Dark Knight Rises, which saw 66,000 tickets booked ahead of its run.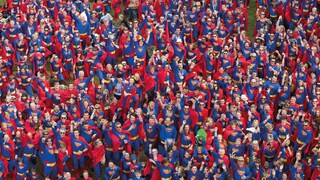 5) Superman gathering

Is it a bird? Is it a plane? No, it's 867 people dressed as the Man of Steel. Hundreds of fans donned Superman's iconic red-and-blue costume and came together at Kendal Calling festival in Cumbria on 27th July 2013, organised by fancy-dress shop Escapade. The stunt took place to coincide with the launch of Man of Steel, starring Henry Cavill, and to help raise awareness and money for the charity, Help for Heroes. Although beating the previous record of 566 people, several hundred cape- and pants-wearing festivalgoers missed the Guinness World Record's official count – meaning it could have been much higher.
6) Scarecrow gathering

A farm in Staffordshire created the world's largest single-site scarecrow display in 2014, when over 3,800 mannequins were gathered. The National Forest Adventure Farm received over 100 scarecrows a day from visitors since putting out a call in July, with some building them on site. Amongst the designs, some were made to resemble Simon Cowell, Cheryl Cole and Peppa Pig, as well as other celebrities and famous faces. The official count took place in early September, with Guinness World Records confirming that the previous record, set in Cincinnati in the USA, had been broken.
7) Park

Scotland's Cairngorms National Park is the largest in Britain at 1,748sq miles, nearly twice the size of the second-largest – the Lake District (912sq miles) – and bigger than the whole of Luxembourg. The Cairngorms is a vast expanse of wilderness with a plethora of mountains, forests, rivers, lochs, wildlife, villages and distilleries. Five of the UK's six highest mountains are all found in the Cairngorms, and it's the country's top ski resort. It's also popular with hillwalkers, climbers, mountain bikers and train enthusiasts: the Strathspey Railway is a traditional steam train. It's also home to Scotland's only funicular railway and Britain's highest, climbing to over 1,000m above sea level.