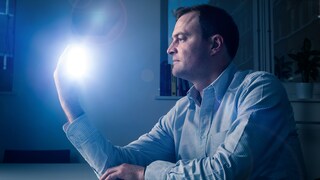 After spending a summer constructing vacuum-cleaner prototypes, 17-year-old Jake Dyson's future was sealed. But while following in the footsteps of his father, Sir James, Jake has created his own piece of history with an innovative light system that will last for years.
From a bagless vacuum cleaner to a wheelbarrow with a ball instead of a wheel and a fan with no visible blades, the Dyson name is synonymous with inventions that are simple yet gamechangers. Now the next generation is carrying on the family tradition, as Jake, one of Sir James Dyson's two sons, has created CSYS, an innovative light that he claims will stay bright for almost four decades.
It's natural to make comparisons between your father's lifelong fascination with invention and your own career. But is this the case? Did you grow up wanting to be like him?

My father finds his inspiration in frustration and making things work properly. Growing up, his problem-solving mentality was infectious and it's shaped the way that I see things – always wanting to improve them and make them work better.
What was your childhood like? Did you ever help him with his projects?

Design and engineering is in the blood. Making, breaking, fixing and tweaking is in the family. I spent my entire summer holiday when I was 17 building vacuum-cleaner prototypes. I worked with two other model makers and we needed to create 10 working prototypes of the vacuum. It was a challenge keeping to schedule, but the experience taught me a lot in terms of how to use and sculpt ABS plastic – a low-cost engineering plastic that's easy to machine and fabricate. It also taught me that failure is more than important – it is an integral part of the design process. To make a product the best it can be, you must sketch, build, test and then go back to the drawing board to redesign.
What was your childhood like? Did you ever help him with his projects?

To get on with something straight after college, I started working on projects that combined interior design and mechanics, such as sensor-activated furniture. This led to me working on a big project for a jewellery store in London called Jess James, where all the cabinets were on hydraulics and were sensor-activated. Upon approach, the lights came on, and when you walked away, the lights went off. But to be honest, I was never really captivated – I've always been more interested in product mechanics.

I spent two years working at Dyson, but in 2002 left to start my own business. I wanted to go out and do my own thing and prove to myself I could do this.
 
I set up my own workshop in Wandsworth, south London, purchased a mill and lathe and started experimenting with a ceiling fan idea I had. The fan proved extremely difficult to manufacture because of safety reasons and the level of testing and engineering required to take it to that level. I licensed the product and with that money, set up my own studio in Clerkenwell, London, in 2004, to prove to myself that I could do it.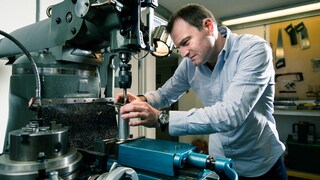 Where did the idea for your CSYS come from?

It came from wanting to solve a problem. Light bulbs live a short life, and we have to keep replacing them and disposing with the dead bulbs. Heat Pipe technology stemmed from wanting to prolong the life of LED bulbs, to create a more ecological product with a long lifespan.
Jake Dyson Products has now become part of the Dyson Group. Is this a step towards you taking over from your father in time?

It made sense to be able to use Dyson's production and research and development capabilities to further expand the lighting business. My father has no plans to retire and will remain at the helm of Dyson, solving problems and introducing new technologies. Dyson is our family business, and I'm still learning so much about Dyson technologies, and Dyson people.
What characteristics do you share with your father, and what lessons have you learned from him?

My father is as motivated by his frustrations, as I am. We share a desire to understand how machines work, and how we can make them better. Above all, he has taught me to be bold and decide for myself. It's OK to fail, so long as you pick yourself up having learned something.