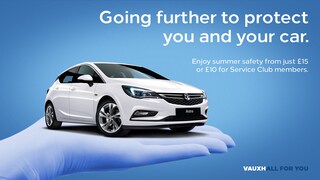 SAFETY THIS SUMMER FOR ALL MAKES
You and your car's safety is our priority.
As we all start to adjust to the 'new normal', it's very important to make sure your vehicle is safe and running at its best.  That's why we are offering all drivers a choice of 3 Summer Safety Checks.  So no matter what make of car you drive we have a solution for you.  You can be confident that all checks are completed by our highly trained technicians, following strict safety procedures to ensure your car is returned to you safely.
With options of collection and delivery services* and 24 hour-online booking you don't even need to leave your home or office. Our safety checks start at just £10 for Service Club customers.
 Confidence, convenience and great value guaranteed

Bronze: £15 (or £10 for Service Club members) for a comprehensive 29-point visual check and manual vehicle disinfection

Silver: £39 for a comprehensive 29-point visual check, including a top-up of six of your vital fluids plus a complete vehicle anti-bacterial cleanse using a specialist sanitising system*

Gold: £99 for a comprehensive 29-point visual check, a complete cleanse and de-bug of your air-conditioning system; we will also replace your Vauxhall Approved pollen filter and carry out a manual vehicle disinfection
What's included in the 29-point vehicle health check?