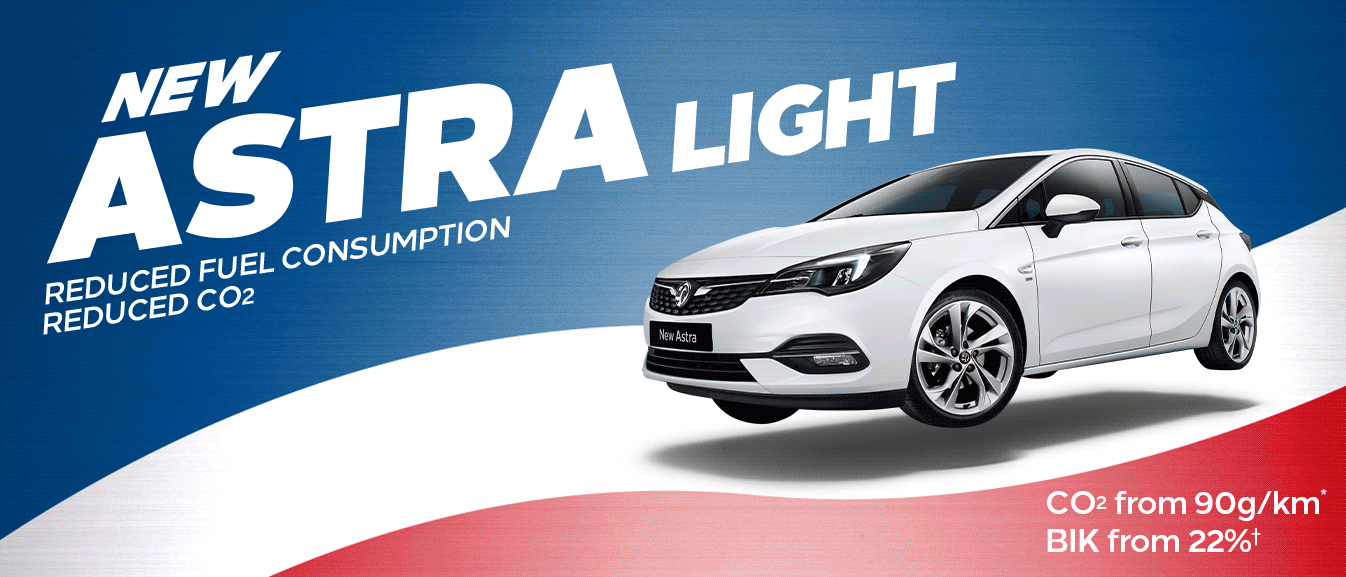 Meet our most efficient Astra yet. Packed with innovative tech and boasting class-leading aerodynamics, new Astra is more practical and comfortable than ever. Enjoy.
KEEP ME INFORMED
SEE WHAT PEOPLE ARE SAYING ABOUT NEW ASTRA
Get involved using #MyVauxhall
SEE WHAT PEOPLE ARE SAYING ABOUT NEW ASTRA
Get involved using #MyVauxhall
NEW ASTRA LIGHT - DRINKS LESS FUEL
Emissions are down

Discover the next generation engines.

 

The new Astra cuts CO2 emissions by up to 19% compared to previous models. And lower fuel consumption makes this the most efficient Astra ever. 

Pick your power

Choose from petrol or diesel engines. Maximise your fuel efficiency. Overload your driving pleasure. 

 

The new Astra promises the smoothest, sportiest, most responsive ride yet – powered by a new generation of engines that slash carbon emissions by up to 19% compared to previous models and offer lower fuel consumption. 

Tricky choice

Kick it up a gear. Take more control than ever before. Choose between 6-speed manual transmission, Stepless Automatic Transmission, and the new 9-speed automatic. 
Looks as good as it drives

New Astra is packed with class-leading tech – like IntelliLux LED® Matrix Lights. And its redesigned 3D radiator grille features upper and lower sections which open and close automatically, this improves airflow and helps make the new Astra one of the most fuel efficient cars in its class.

 

Driving is more exciting than ever.

Tailored to you

Vauxhall designed the new Astra with one thing in mind: you. 

 

With an ultra-modern interior and state-of-the-art technology, you've never experienced comfort and connectivity like this. Kick back and enjoy the ride.

Roll your way

Drive in style. 

 

Bespoke wheels spice up your new Astra with its own distinctive personality. 

 

Astra offers 16, 17, and 18-inch alloys – you'll always find the right wheels for your ride.

See and be seen

Powerful. Efficient. Energy-saving. What more could you ask for from our signature LED daytime running lights? 

 

Progressive technology means the Astra's LED headlights, which are available on up-level models,  help reduce CO2. The fact that they look super-sleek is a nice touch, too. 
Smart Lighting

Dazzle the streets, not other drivers. 

 

Our glare-free IntelliLux LED® Matrix Lights automatically adjust to oncoming traffic. So you can keep your eyes on the road and have a brighter, clearer view of what's ahead. 

Get the picture

Take the guesswork out of reversing. 

 

See exactly what's going on behind you with the on-board rear-view camera. The live video display then guides you into position. 

We'll park

Parking made easy. 

 

Our Advanced Park Assist guides you from start to finish. Powered by intelligent technology, our smart parking aid finds, manoeuvres, and eases you into any suitable space. Just like that. 
Take a seat

Sit back and relax. Multi-adjustable Ergonomic Active seats, with seat cushion extension and lumber support, make life comfortable for driver and passengers.  No matter where you sit, get cosy with heated front and outer-rear seats. 

 

Upgrade for the truly personal touch – with ventilation and in-seat massage. 

Warm welcome

Just the thing for those cold mornings. 

 

The new Astra features heated seats and heated steering wheel. And our advanced ThermaTec™ heated windscreen lets you defog and defrost at the push of a button. 

Your personal climate

Find the perfect temperature. 

 

The clever dual-zone automatic climate control will finally end those arguments about who's too hot and who's too cold. Using the independent driver and passenger control systems, you can set the climate that suits you best.

21st century handbrake

The built-in electric parking brake has an ultra-compact design that offers more space in the cabin. Hit the button to set after stopping – then automatically disengage when you drive off on your next adventure.
Safety first

Forward Collison Alert is there for you. It scans the road ahead, then sends you a warning to help you avoid a potential collision.

Slow down automatically

An advanced automatic city emergency braking system scans traffic ahead of you. The instant it detects an impending collision, the system helps the driver brake more quickly and effectively in an emergency. Clever tech that gives you more confidence. 

Stay in your lane

The Astra's Lane Keep Assist system is built to keep you right where you should be. If you start drifting out of lane, the smart steering wheel gives you a gentle nudge. 
Take control

The Multimedia Navi Pro system bursts with connectivity – from the AM/FM/DAB radio to voice control, with support for Apple CarPlay and Android Auto. Control your surroundings through the built-in 8" colour touchscreen, whether you're just personalising your ride, or navigating all across Europe.

 

The ultimate way to connect.

Stay connected

Wireless charging is available on new Astra. Quickly boost your compatible smartphone battery, just by placing it inside the phone compartment. 

 

You can always call your Vauxhall Retailer to check if your phone's compatible.

Help in an emergency

It's good to be prepared. That's why the new Astra has an optional Emergency Call feature. 

 

If the car senses that you need the emergency services, like when airbags are triggered, it instantly dials 999 and sends your location. Or you can just press the Emergency Call button yourself.