PASSENGER VANS
Safety and comfort go hand in hand
Movano Passenger Carriers combine easy access with the best levels of safety and comfort. The common-rail turbo diesel line-up comprises fuel efficient, Euro 5-compliant 100PS, 125PS and 146PS 2.3 litre CDTI 16v engines. There are also 25,000 mile/two year service intervals, and a warranty of up to three years/100,000 miles for extra peace of mind.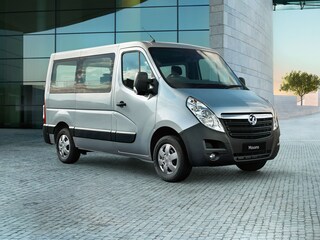 Movano 6 and 9 seat Combi
The flexible and versatile design of the Vauxhall Movano Combi provides effective load space and passenger carrying capability, whether you choose the 6 or 9-Seat Combi.
With dual front passenger bench seat, rear bench-seat for three passengers and single sliding door, the 6-seat Combi provides comfortable and accessible seating. The 9-seat Combi is bigger, roomier and altogether more versatile.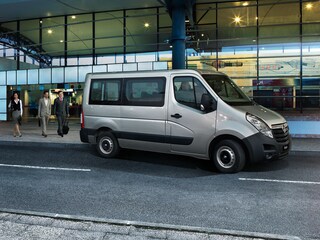 Movano 17-Seat Minibus
The Movano Minibus can accommodate 17 people with optimum access and comfort. The layout features offset double seats on one side of the aisle with adjacent single seats. Plus, you can make the last two rows of seat removable to free up extra load space.
The wide-opening sliding side-door and standard electrically operated retracting side-step ensure easy access. Safety is also a priority with inertia-reel seatbelts tested to passenger car standards and padded head restraints for every seat.