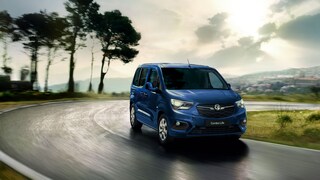 Combined MPG

---
From 37.5 to 50.9mpg

Forward collision alert

Imagine having an extra pair of eyes to watch the road and look out for hazards. That's what forward collision alert does. If you're approaching another vehicle too quickly, it flashes a warning light and sounds an alert so that you can slow down in time – keeping you and your family safe.

Lane Keep Assist

Even the most experienced driver can have a lapse of concentration. If you drift out of your lane – without indicating or actively steering – our Lane Keep Assist feature kicks in. Not only does it warn you of the danger, it gently corrects your steering to put you back on track.

Speed sign recognition

Smart speed sign recognition reads traffic signs (even temporary ones) and displays the information for you on your dashboard (or the optional Head-up display as illustrated below).

7-seat interior


Families seem to grow and grow. Fortunately, so does the seating in the new Combo Life. If the spacious 5-seat interior just isn't enough, you can upgrade to 7 seats – with safe and easy access through the handy, sliding rear doors.

Front and rear parking sensors


The new Combo Life doesn't just give you all the room you need. It's also got smart technology to help you fit in the tightest of spaces. With parking sensors at the front and rear, you've got excellent all-round awareness. And parking is one less thing to worry about.
Make more trips to the beach, and not so many to the petrol station. With a choice of powerful yet economical engines, Combo Life is equipped for the longest journey. 


Swipe across to compare engines
Fuel Type


CO2


Combined MPG range

BiK Rate from*
(2019/20 tax year)

1.5 (100PS) Turbo D Start/Stop BlueInjection

Diesel

107g/km
42.2 - 50.8mpg
29%
1.5 (130PS) Turbo D Start/Stop BlueInjection Auto

Diesel

106g/km
45.2 - 50.7mpg
29%
1.5 (130PS) Turbo D Start/Stop BlueInjection

Diesel

111g/km
44.8 - 50.9mpg
30%
1.2 (110PS) Turbo Start/Stop

Petrol

122g/km
37.5 - 42.4mpg
28%
1.2 (130PS) Turbo Start/Stop Auto 
Petrol
119g/km
TBC
27%
The Combo Life is built with practicality and space in mind. All of our trims (Design, Energy and Elite) ensure you'll have our latest on-board entertainment, comfort and safety features to take care of your family.