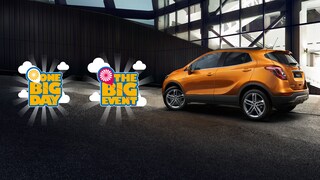 VAUXHALL MOTABILITY EVENTS
One day and the big event  
All events provide the perfect opportunity to discover everything you need to know about worry-free motoring with Motability.
Upcoming Events:
The Big Event, Northern Ireland - 1 & 2 June 2018
The Big Event, NEC, Birmingham - 6 & 7 July 2018
One Big Day Exeter - 28 July 2018
One Big Day Harrogate - 11 August 2018
One Big Day Peterborough - 8 September 2018
The events will host the UK's largest display of vehicles available through the Motability Scheme, including:
Over 100 cars from 27 different manufacturers

Over 40 scooters and powered wheelchairs

Adaptations from a wide range of adaptation companies

Over 25 Wheelchair Accessible Vehicles
The one big day experience
You can also:
Test drive adapted and non-adapted cars
Chat to Motability advisors who are on hand to answer your questions
Meet Motability Scheme Partners - Kwik Fit, RAC and RSA Motability
Get advice from The Forum of Mobility Centres and Disabled Motoring UK
Plus, there's:
A free hot or cold drink for every visitor and there will be a range of hot and cold food available to purchase.

Motability Operations are offering a chance to win an iPad mini in their free prize draw

Children's entertainment including Billy the Bear!
Test drive adapted cars at the big event  
You can test drive adapted cars, both as a driver or passenger to see which vehicles best suit your needs. The adapted cars are fitted with a wide range of different adaptations including hand controls, steering wheel balls, electronic brakes and left foot accelerators.

We have professional driving instructors that will accompany you on your test drive to help make you feel as safe as possible.

Unfortunately, it is not possible to test drive Wheelchair Accessible Vehicles (WAVs). However, there will be lots of WAVs to see, experts on hand to answer your questions and you can arrange a home demonstration for a later date.