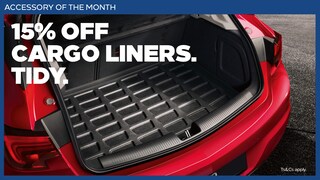 Vauxhall Cargo Liners - 15% off
Taking plants and wellies to the allotment? Dropping your spring-cleaning down the tip?
You'll need to protect your boot – and Genuine Vauxhall Cargo Liners are just the job.

They're all tailor-made to fit your Vauxhall, and they're also:
Made of high-quality material with anti-slip surfaces

Removable, so you can easily clean them

Stamped with your model's name logo
Throughout March, we're offering 15% off all our cargo liners. Why not make a smart decision? 
ORDER NOW
For more information or to buy in-store, please contact your local Vauxhall Retailer.
FIND A RETAILER