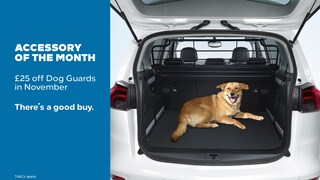 If you have a four-legged friend, a fitted dog guard is the perfect way to separate your passenger and luggage compartments.
A dog guard helps keep your furry pal happy and safe – and your rear seats tidy. But more importantly, it will help you stay within the law.
Here's how Rule 57 of the Highway Code puts it:
When in a vehicle make sure dogs or other animals are suitably restrained so they cannot distract you while you are driving or injure you, or themselves, if you stop quickly. A seat belt harness, pet carrier, dog cage or dog guard are ways of restraining animals in cars.
All good reasons why we're offering £25 off Vauxhall dog guards for the whole of this month.
Our dog guards are strong, durable and designed specifically for your vehicle.
Key Features:
Stable separation and security when driving with pets or belongings

Steel construction

Rear seat folding and load-through function still usable with guard in place

Helps stop objects from the boot area moving into the passenger area
Dog guards are available for these models:
Astra Sports Tourer

Crossland X

Mokka X

Grandland X

Insignia Sports Tourer

Zafira Tourer
Why isn't there a dog guard for my hatchback?
Our dog guards are fitted to secure mounting points in the roof panel of vehicles. Unfortunately, these points aren't available in hatchbacks.
ORDER NOW
FIND A RETAILER