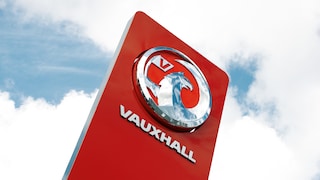 A message from Stephen Norman – Managing Director Vauxhall Motors Ltd
Vauxhall Motors and our Retailer partners are taking every step to ensure the wellbeing of our customers and our colleagues while working to maintain our service to you.
While our physical showrooms are closed following the Government's shutdown announcement on Monday 23rd March, a large number of Vauxhall workshops remain open at a reduced level to cover the essential requirements for MOT, roadside recovery,  emergency repairs and importantly to provide a service facility for 'Key Workers' as required.

Across the Vauxhall Retailer Network we have adapted our processes in line with Government guidelines, so please understand that staff will maintain an appropriate distance and we may not be able to offer our usual drinks or refreshments.

If a customer is concerned about visiting a Retailer, home visits and deliveries can be arranged while ensuring necessary health procedures. Please contact your local Retailer to discuss the options that are available.
We thank you for your ongoing loyalty and commit to do everything possible to maintain our service to you.
If you have any concerns or questions then please do contact us.
Frequently Asked Questions
How can I find out which Vauxhall Retailers are still open for servicing and repairs?
You can find a list of Vauxhall Retailers currently open for servicing and repairs here. This is updated daily.
I have a new or used vehicle on order, what will happen with my delivery?
At Vauxhall, the health and well-being of our customers, Retailers and colleagues is our number one priority. Vauxhall and its network of Retailers will continue to respond to the latest guidance and advice from the World Health Organisation and UK Government with everyone's health and well-being our primary concern. Following the statement from the Prime Minister on Monday 23rd March, we intend to continue to fully support the Government efforts to control the spread of the virus. Our physical showrooms across the UK will therefore temporarily close until the end of the shutdown period.
Our Retailers will be contacting all customers that are currently expecting delivery of a new or used vehicle, have a vehicle onsite for service or have an upcoming booking with an update to make suitable arrangements to support everyone.
Work is due on my vehicle, can I visit the Retailer or should I delay the booking?
Where feasible and permitted in accordance with Government instructions, Vauxhall workshops intend in the majority of cases to remain open at a reduced level to cover the essential requirements as laid out by Government of MOT, roadside recovery & breakdown, emergency repairs and importantly to provide a service facility for 'Key workers', providing loan vehicles if required.


If you are not a key worker and your vehicle is due any service, maintenance or repair work, please contact your local Retailer who will be able to advise you on the best course of action.  
My MOT is due, can this work still be carried out?
If your MOT is due to expire before the 30th March 2020, you should book your vehicle in for an MOT at your local Vauxhall Retailer.
 
If your MOT is due to expire on or after 30th March 2020, your MOT will automatically receive a 6-month MOT exemption, as detailed on the Government website.


It is however important that you keep your vehicle safe to drive and if you need any help checking your vehicle, please contact your local Vauxhall Retailer.
Is the Vauxhall Assistance breakdown service still available?
If we have provided you with a breakdown recovery service, this will be available 24 hours a day unless the Government instructions mandate that this is not possible. Vauxhall use the RAC for premium breakdown service.  Please refer to their website to see how they are responding to COVID-19.
Will my Warranty/Lifetime Warranty be affected if I do not get my service / repair done?
We fully understand that the current restrictions may mean that your scheduled service cannot be performed at the time or mileage required so the Service Schedule will be extended by up to 3 months / 1800 miles. As long as you meet this extended service schedule your warranty will not be affected.
 
Customers whose vehicles are approaching the end of the manufacturer's warranty should be reassured that if they experience a defect once the warranty has expired, that would have been detected if the maintenance was performed at the normal time, that these repairs will be accepted by Vauxhall as covered by Warranty.
 
It is also worth mentioning that our parts warehouses continue to remain open and operational to ensure the supply of parts to support your operations and those of a critical public service and to assist the continued mobility of key workers. 
I have a product question, (e.g. how do I work the sat nav) who should I speak to for advice?
We have a series of 'How to' videos that explain the functionality of many of our vehicles. These can be find on the Vauxhall website. 
 
Alternatively, if your question is of a more technical nature, you can contact your local Vauxhall Retailer.
I am interested in ordering a new Vauxhall, how can I order if the Retailer is no longer open?
Whilst our showrooms are temporarily closed, we remain digitally open to serve and assist you with both new and pre-owned vehicles. On this website, you can browse our complete vehicle range at leisure, configure and personalise your vehicle – and have your part exchange valued.
My current lease is due to expire, what do I need to do?
This is a conversation you need to have with your Finance Company.  If this is Vauxhall Finance please contact the returns team at GBCAR-PCP-Returns@vauxhallfinance.com to discuss your options or visit their website.
My Motability contract is due to expire, what do I do?
If you are a Motability customer please visit the Motability website which has a comprehensive FAQ section or contact them directly on 0300 456 4566.


Alternatively Vauxhall Motability will assist with any questions or concerns you may have and can be contacted by phone 0800 731 5267 or by email motability.customer@vauxhall.co.uk.
I have a question about my finance payments, whom should I contact?
For any questions relating to your finance payments, please contact your finance provider directly. If you are a Vauxhall Finance Customer, please visit the Vauxhall Finance website for the latest information.
My Vauxhall Service Plan contract has expired / is due to expire, what should I do?
If you have a Vauxhall Service Plan, Vauxhall will extend the Service Schedule to up to 3 months / 1800 miles, to cover any cases where vehicles cannot be serviced in line with the original service schedule. Please ensure you contact your local Vauxhall Retailer to arrange for it to be serviced within these extended Service intervals.
My vehicle has a recall, what should I do?
If your vehicle requires a safety related rework please contact your local Vauxhall Retailer with your registration number at hand and they can advise you on the best course of action.
What is the support for Fleet customers?
FLEET SALES: The Vauxhall Fleet account management team continue to be available and will look to support our National Fleet (50+ vehicle) customers. For Fleet managers and Fleet management teams, please contact your Corporate Sales Manager or Leasing and Rental Manager. For business car users, please contact your company/leaser fleet support team for guidance.
ESSENTIAL SERVICES: If you are an 'Essential service' organisation (as defined by UK Government guidance), are utilising Vauxhall vehicles and you have operational issues with the vehicle, we want to help. If you are a fleet manager/downtime team and cannot find support through your normal aftersales channels, please contact vauxhallfleet@vauxhall.co.uk and we will assist. If you are a vehicle end user, you will need to contact your organisation's fleet management team for guidance.